Sustainability through Energy Efficiency.
"Energy efficiency is the fastest way to reduce your carbon footprint and reduce costs. Combined with renewable energy solutions, it becomes a powerful way to manage our sustainability challenges."

International Energy Association.
---
The Solution
The Green Planet Demand Control Drive is a Malaysian technology that saves energy consumption of HVAC systems by making the motors run more efficiently.
Customers have been able to save up to 10% their monthly electricity consumption.
The Return on Investment (ROI) is less than two years, which makes it a very attractive proposition for organisations seeking to reduce their carbon footprint and save on electricity costs.
The system's performance has been validated by SIRIM, Malaysia and TNB. It is also the only system of its kind to receive the GreenTech Malaysia certification for its energy saving features.
This solution offered is a retrofit system and will not impact your air conditioning performance, so you will not sacrifice your air balancing and comfort to achieve the savings.
How do we do this? By leveraging on existing inefficies within the system using digital technology to reduce wastage and maintain performance.
This is not a Demand Control Ventilation System or an Inverter System, which function differently.
---
How Does It Work?
The Green Plant DCD works by optimising the AHU fan, cooling tower fans, pump motors and blower fans using real time data and software, which ensures that the system works based on the capacity required.
The system can be used for all commercial air conditioning systems – buildings, malls, airports, hospitals, hotels, offices, conference halls and manufacturing sites.
---
What Are The Savings?
The system can save between 35 and 50 per cent for commercial systems.
One of our mall customers is saving RM50,000 per month after installing the Green Planet DCD.
These savings are achieved without compromising performance.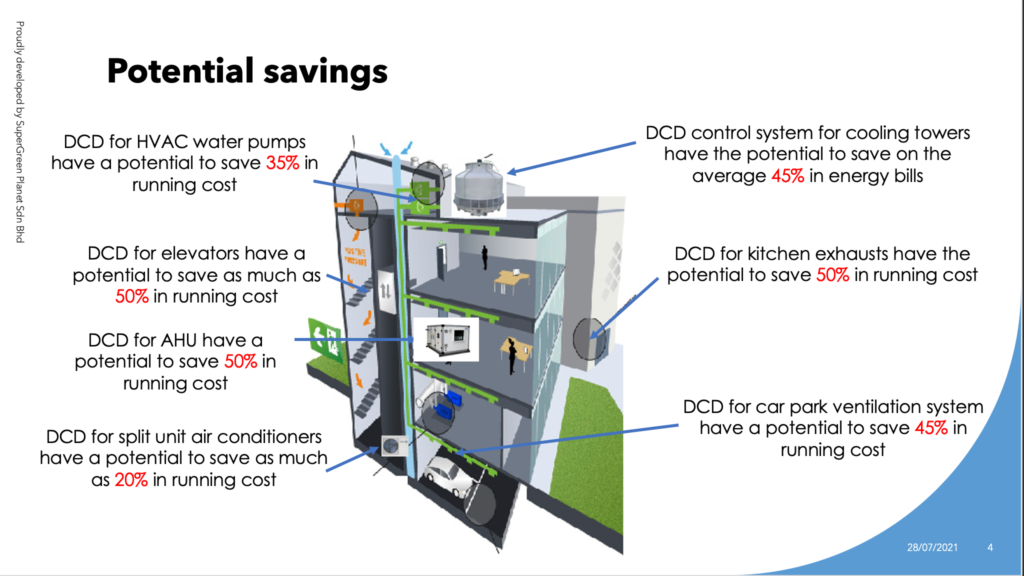 ---
Other Benefits?
Lower Maximum Demand.

The Green Planet DCD can also reduce your Maximum Demand, thanks to its slow start feature.

Reduced system turbulence.

It also monitors and adjusts air flow to reduce turbulence, which results in a huge noise reduction and better cooling of air, as it goes through the coils.

Tax Benefits.

You will also save on carbon emissions and can claim a tax benefit for investing in GreenTech!

Lesser Noise and Radio Frequency Noise.

The improved motor function also reduces noise and radio frequency interference in the area.

Better Cooling.

The system also reduces turbulence, which improves the cooling process, resulting in more efficient cooling.
---
Are These Claims Verified?
Our system has been independently certified by TNB, SIRIM and is the only one to be certified by GreenTech Malaysia.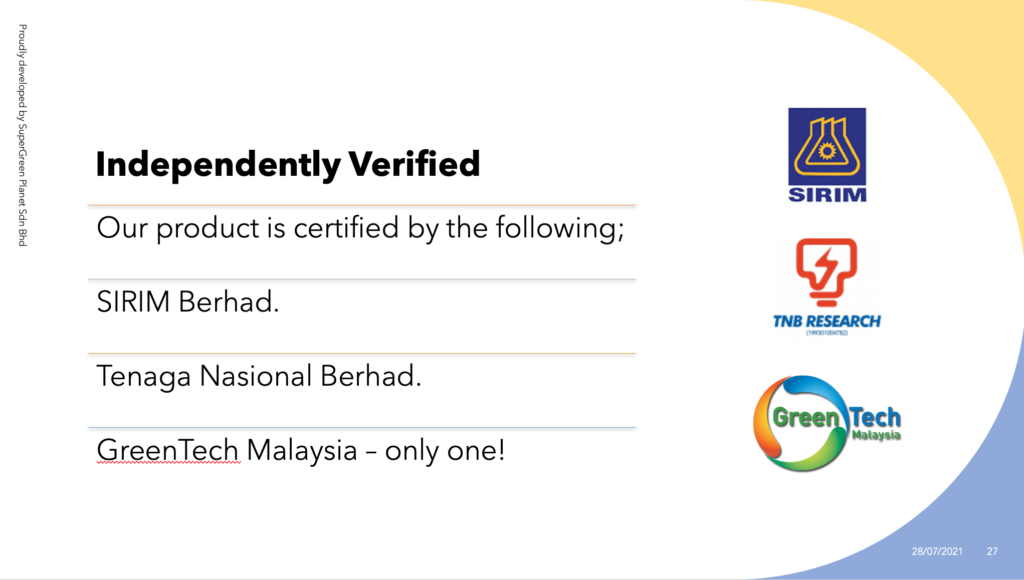 ---
How Do I Get This?
The first step is to conduct a test of the system at your site to gather data on potential savings.
Testing is free and not intrusive. It will not affect your existing system in anyway.
Once this is done, we will proceed with a system analysis and discussions with the client to decide on the project scope and targeted savings.
Use the link below to speak to us.