Sustainability through Energy Efficiency.
"Energy efficiency is the fastest way to reduce your carbon footprint and reduce costs. Combined with renewable energy solutions, it becomes a powerful way to manage our sustainability challenges."

International Energy Association.
Energy prices are expected to increase in the coming years in Malaysia, and increased attention to sustainability and energy saving requiring companies to make their equipment more energy efficient, especially HVACs.
The GreenPlanet Demand Control Drive (DCD) is allows organisations to reduce their HVAC bill significantly without loss of performance – a key criteria that other solutions in the market cannot yet achieve.
---
The Solution
The Green Planet Demand Control Drive is a Malaysian technology that saves energy consumption of HVAC systems by making the motors run more efficiently.
Customers have been able to save up more than 25% of their HVAC electricity consumption. For one mall customer, this has translated into a 10% reduction in their monthly electricity bill.
The Return on Investment (ROI) is below three years and because the DCD is MyHijau certified, you can claim 100% of your investment as a tax benefit.
As an investment in sustainability, it is also one of the best ways to significantly reduce your carbon footprint through efficient energy management.
This makes it a very attractive proposition for organisations seeking to reduce their carbon footprint and save on electricity costs.
The system's performance has been validated by SIRIM, Malaysia and TNB. It is also the only system of its kind to receive the GreenTech Malaysia certification for its energy saving features.
This solution offered is a retrofit system and will not impact your air conditioning performance, so you will not sacrifice your air balancing and comfort to achieve the savings.
How do we do this? By leveraging on existing inefficies within the system using digital technology to reduce wastage and maintain performance.
Note that this is not a Demand Control Ventilation System.
---
How Does It Work?
The Green Plant DCD works by optimising the AHU fan, cooling tower fans, pump motors and blower fans using real time data and software, which ensures that the system works based on the capacity required.
The system can be used for all commercial air conditioning systems – buildings, malls, airports, hospitals, hotels, offices, conference halls and manufacturing sites.
---
What Are The Savings?
The system can save more than 30% of HVAC energy consumption without loss of performance, thanks to the revolutionary software that uses live data to optimise cooling.
These savings have been saved at the following locations where more than 200 units have been installed;
Malls.
Hotels.
Hospitals.
Warehouses.
Here are some actual examples;
Example of power savings from a single AHU unit at a mall.
Actual customer electricity bill. System operational from Sept 2022.
---
Tax Benefits
The GreenPlanet DCD is currently the only such product to have the coveted MyHijau certification.
This makes it eligible for the MyHijau Green Incentives – which means you can claim the entire amount spent as a tax benefit.
Organisations can claim 70% of the investment in the first year, and the remaining the following years until 2024.
With the ROI projected at less than three years, and the tax benefits, organisations can significantly reduce their electricity bill and achieve carbon savings within a very short period.
Carbon Savings
The DCD saves 0.694kg of CO2 for every kW saved, based on the assessment for the MyHijau certification. Using a baseline assumption of 30% energy savings per AHU, this translates into significant CO2 reduction for organisations that invest in the DCD.
Are These Claims Verified?
Our system has been independently certified by TNB, SIRIM and is the only one to be certified by GreenTech Malaysia.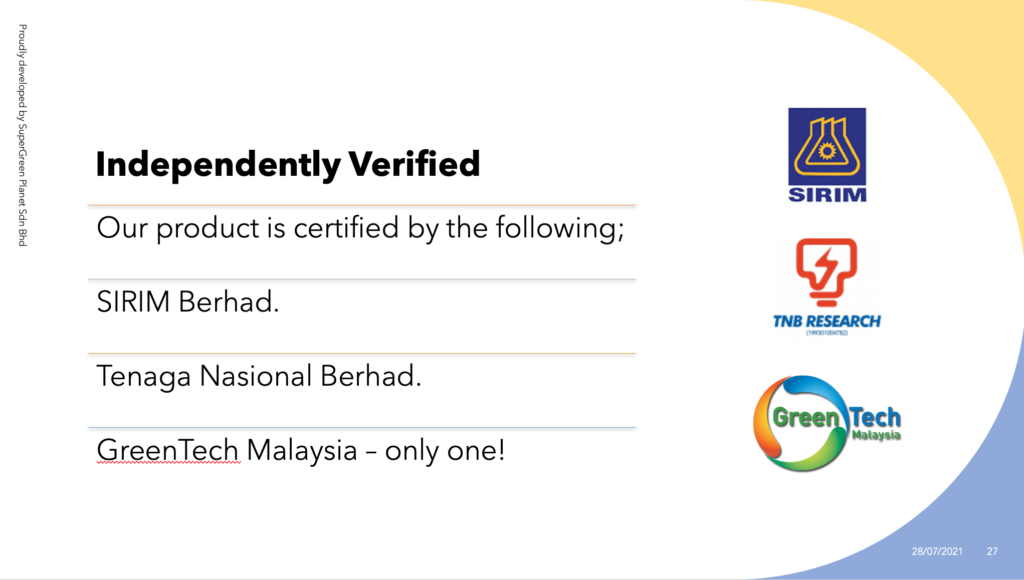 ---
How Do I Get This?
The first step is to conduct a test of the system at your site to gather data on potential savings.
Testing is free and not intrusive. It will not affect your existing system in anyway.
Once this is done, we will proceed with a system analysis and discussions with the client to decide on the project scope and targeted savings.
Use the link below to speak to us.